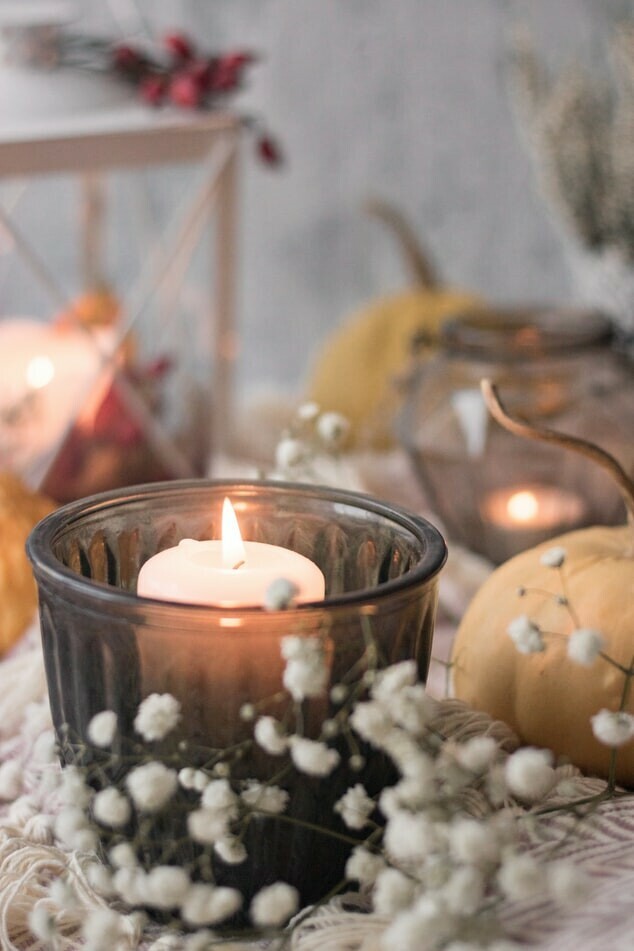 In Candles Part 1, I shared what I've learned about the different types of candles. If you missed it, go check it out here.
Now I want to talk about some of the other reasons candles may not be the best choice for your home.

Burn time:
Now, a little known fact about candles is that in order for them to burn evenly you must leave them lit for hours. The bigger the candle, and the more wicks it has, the longer it needs to burn. If you extinguish the flame too soon, your candle's life will be reduced and you'll notice a lot of leftover wax even after the wick is gone.
Expense
Candles are expensive! A 'good quality' candle can run anywhere from $25 and up. The bigger it is, the more expensive. Plus, you are then locked into that scent until the candle is gone. Unless you have a closet filled with candles that you rotate. $$$$
Danger
And let's not forget the danger of open flame. If you've spent anytime online you've likely seen videos where a single flame has burned a whole house down in minutes. (Candle Sparks serious house fire) At the very least causing thousands of dollars in damage. And if you have kids or pets, the risk is even greater. A mis-aimed toy, a wagging tail…
Have you ever tried to clean wax off of the furniture, walls or out of carpet? I have and it is not fun.
Ok, so we now know that candles may not be the best option for your home. You've decided you don't want to risk the dangers, but you still want your home to smell amazing. What options do you have?
You can try stove top potpourri using water, orange slices and cinnamon sticks, or whatever you choose. Be sure to keep an eye on the water level!
You can make dried potpourri. Again, watching for fragrance! Make sure you check out my post about fragrance here.
Or, and this is my personal choice, you can use a diffuser and essential oils. There are many types of diffusers that can be used but my favorite is an ultrasonic diffuser. By using ultrasonic vibrations, the water & essential oils are converted to water vapor.
(Make sure your diffuser has an auto-shutoff setting so that once the water is gone the motor shuts off.)
Remember the fragrance section? This applies to essential oils, too! Quality matters. You must be able to trust the source. My family only uses Young Living.
Now, let's look at the cost of candles vs essential oils. A small name brand candle (not the 'good quality' kind) runs $14.99 and burns for 25 hours. I can use my diffuser and 30 drops of lavender oil (6 drops per hour for 5 hours at $0.09 per drop) for $2.70. PLUS, I can change up the smell as often as I want! Either pour out the water in the diffuser or wait for it to finish, then use different oils to achieve a different smell. No closet full of half burned candles.
You can still make your home smell amazing while at the same time being safer and removing toxins. Bring on all the fall smells!
A great fall diffuser blend, Orange Spice has Tangerine, Cinnamon Bark, and Frankincense. And there are hundreds of options for everything from Pumpkin Spice to Apple Pie, and even a woodsy stroll.
I hope this has helped explain some of the dangers of candles and why our family has thrown them all out.
If you want more information like this join us in our FB community HERE.